"A Road Shared is Success in Running"
Welcome to the information page for registered participants in the Rockin' 'n' Runnin' Half & Full Marathon Training Programs.
Weekly Information



TOUR OF SAN DIEGO
Date/Time: April 21st @ 6:30 am
Location: Hospitality Point Map
Weekly Newsletter: Week 16
Notes:
— As soon as you complete your run, (for a job well done) our "Welcome Back Committee" Steve Scott and Annie Herrin will be handing out Otter Pops while Peter Stern will be providing his legendary Finish Line Tape as a RnR program tradition!
— Remember to thank the RnR volunteers during your run!!
Maps: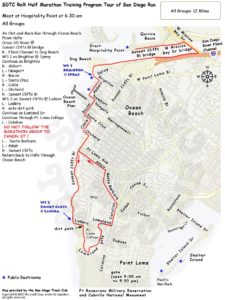 Program Schedules & Training Groups
Pace Groups
A Group (7 min / mile and faster) = Aerosmith
B Group (7:30 to 9:00 min / mile) = Kool & the Gang
C Group (9:30 min / mile and slower) = Oasis
Schedules
Next Level Training Program

Are you looking for your next Personal Best? Are you on the verge of obtaining a Boston Qualification?  Are you searching for more? More workouts, more personal attention, more ways to improve?  Are you ready to take your training to the next level? Email the coach: sdtcnextlevel@gmail.com
Read more about our new Next Level Training Program: Next Level Full & Half Training Program
Mentoring Program – Sign up for a mentor!
First time in the RnR Program? Want personalized attention? We have experienced marathoners that can help! Contact Steve Scott at sdkurri17@gmail.com for more information.
Useful Links
Social Media
RnR Training Facebook group
SDTC Facebook group
Follow us on Social Media
Volunteering

– Make a Difference!
Volunteer Here
Saturday runs are a success thanks in part to our terrific volunteers and drop kings who supply and staff the water points for all runners.  They get up early, provide a great service for all of us, as well as cheer us on. Encourage friends and family to sign up, or give back on a weekend that you are not running!
Training

Calculators and Charts

Heart Rate Training Zones

– Given your age or a recent test, this calculator will give you an indicate of your target heart for various workouts.

Race time Prediction

– Given a recent race performance, this will give you an indication of what you could do at another distance.
Other helpful links
Nutrition
Meet the Coaches
We have a very talented coached staff at RnR. Get to know our RnR coaches and read their bios:
Meet the Coaches