"If You Want to go fast, go alone. If you want to go far, go together"
Welcome to the information page for registered participants in the Rockin' 'n' Runnin' Half & Full Marathon Training Programs.
Weekly Information
WaHiDoHi Run
Long Run: February 20th @ 7:00am
Run Start: Hospitality Point
Weekly Newsletter: Read Here
Weekly Zoom Seminar:
Thursdays @ 7:00 PM via Zoom
https://zoom.us/j/323160805
Meeting ID: 323 160 805
Dial in: 669-900-9128
Half Marathon:
Run Map
Training Schedule
Marathon:
Run Map
Training Schedule
---
Going the Social Distance Full & Half Marathon 2021
Official registration is now open for the Going the Social Distance Full & Half Marathon 2021 event.
Sign up today to secure your spot!
DATE:
Saturday, June 5th
LOCATION (START/FINISH LINE):
Hospitality Point
START TIME:
Marathon: 5:30AM | Half Marathon: 6:30AM
COURSE MAP:
Marathon | Half Marathon
COVID WAIVER:
If you haven't submitted your COVID waiver, please review and electronically submit a signed copy here.
More details coming very soon!
---
Social Distancing Protocol
1. Everyone will need to sign the Rockin' 'n' Runnin' Program waiver. If you are able to electronically sign or scan it, you may email it to us at membership@sandiegotrackclub.org. Alternatively you may bring a signed hard copy.
2. Face coverings are to be worn before and after runs, at water stations, and any time 6 foot social distancing is not possible per county guidelines.
3. No one will be running together when we begin our runs as the closest anyone will be is 6 feet apart. No gatherings!
4. Runners are to arrive at the run start at their designated time, wear a face covering, and stay at least 6 feet apart from others. If you arrive early, please wait in your car until start time. We will separate the different level groups and send runners off immediately. There will be no group dynamic warmups or stretching before or after the runs.
6. Participants are requested to depart immediately after the run. Runners may grab a drink of water before leaving but please do not gather and socialize. If you need to stretch or foam roll, please find a spot on the grass away from others.
7. Course map cards will not be provided until further notice to limit contact.
8. Runners are to wear face coverings when approaching water stations. Please only touch the cup you will be drinking out of. If you need more, please take another cup instead of refilling the one you have. Only water station volunteers are permitted to fill cups. If you want to fill you personal water bottle, please pour liquid from cups instead of filling from the water coolers.
---
Greetings 2021 Rockin N Runnin Training Program Members!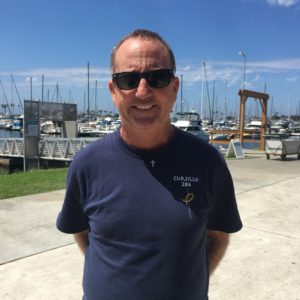 I would like to take this opportunity to welcome all of you to the 24th Annual Rockin N Runnin Full and Half Marathon Training Program. It's indeed a pleasure to serve you as the Director of this Program. We look forward to working with all of you and the opportunity to observe you accomplish your goals in completing the full or half marathon is truly gratifying. Every year the Rockin N Runnin Training Program has a main theme we go by and follow. This year's theme is "If you want to go fast, go alone. If you want to go far, go together".
We know through your perseverance and consistent training the dream of running a personal best or completing the full or half marathon distance will become a reality. This year's upcoming program will be run differently due to COVID Epidemic and it's our #1 priority to ensure everyone is safe and has an enjoyable experience. Further details regarding what we have put into place to ensure safe distance protocols is forthcoming. You are all winners and through hard work and determination on your part you will successfully fulfill your goals this spring. We have excellent coaches and mentors in this program who will be delighted to assist you at any time and you will find they will inspire you through their expertise and warm friendly attitude. They are the best staff of professionals around. Please feel free to approach me at any of the workouts on Saturday mornings or Tuesday evenings. Furthermore, if you have any questions or concerns regarding any aspect of your training please feel free to contact me immediately at home or on my cell. I am here to serve you always. On behalf of the San Diego Track Club we thank you for joining us this year and hope your experience with us will be truly rewarding.
~ Coach Paul
---
Foam Rolling & Stretching Routines
Some of you had asked during the Zoom Meeting last week for some video suggestions/recommendations on foam rolling and stretching.
Click here to view a foam rolling exercise provided by Coach Jason.
Coach Matt's pre and post run flexibility:
Pre-Run Stretch Routine: Click here
Post-Run Stretch Routine: Click here
---
Program Schedules & Training Groups
Mentoring Program – Sign up for a mentor!
First time in the RnR Program? Want personalized attention? We have experienced marathoners that can help! Contact Jamie Fryrear at jamiefryrear@gmail.com for more information.
Useful Links
Social Media
RnR Training Facebook group
SDTC Facebook group
Follow us on Social Media
Volunteering

– Make a Difference!
Volunteer Here
Saturday runs are a success thanks in part to our terrific volunteers and drop kings who supply and staff the water points for all runners.  They get up early, provide a great service for all of us, as well as cheer us on. Encourage friends and family to sign up, or give back on a weekend that you are not running!
Training

Calculators and Charts

Heart Rate Training Zones

– Given your age or a recent test, this calculator will give you an indicate of your target heart for various workouts.

Race time Prediction

– Given a recent race performance, this will give you an indication of what you could do at another distance.
Other helpful links
Nutrition
Meet the Coaches
We have a very talented coached staff at RnR. Get to know our RnR coaches and read their bios:
Meet the Coaches