"We Put the Fun in the Run"
Welcome to the information page for registered participants in the Rockin' 'n' Runnin' Half & Full Marathon Training Programs.
Weekly Information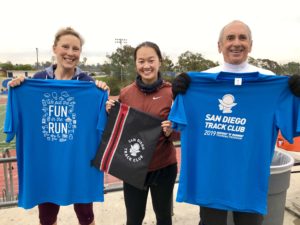 Triton Run
Date/Time: May 25th @ 6:30 am
Location:  UCSD Rimac Field (map)
Weekly Newsletter: Week 21
Notes:
This upcoming Saturday after our final Rockin N Runnin Long Run Workout of the season, Coach Paul will lead everyone through our program's traditional "Final Oath Ceremony". This brief event marks the conclusion of our 2019 program so hope that if you are not racing at Mountains to Beach event this weekend that you make every effort to attend our final long run workout of this season at UCSD. Immediately, following the Final Oath Ceremony we welcome Thom Hunt who will present our final seminar of this season entitled, "Last Minute Full and Half Marathon Tips".

Pasta Dinner Sign-Up
Join us for the annual Rockin' 'n' Runnin' Training Program end-of-season celebration! The Pasta Dinner will be held on Friday, May 31st at 5pm at the Scottish Rite Event Center (1895 Camino del Rio S, San Diego, California 92108).
Enjoy an evening catching up with running friends (all cleaned up and dressed for dinner!), eating pasta, listening to great speakers, celebrate the successes of the 22nd annual RnR Training Program while carbo loading for Sunday's Rock N Roll San Diego Marathon & 1/2 Marathon!
RnR Program Survey
RnR program survey to see what we are doing well and what we can improve! Help us make next year even better!
 
Maps:
---
Program Schedules & Training Groups
Pace Groups
A Group (7 min / mile and faster) = Led Zeppelin
B Group (7:30 to 9:00 min / mile) = Pink Floyd
C Group (9:30 min / mile and slower) = Foo Fighters
Schedules
Next Level Training Program

Are you looking for your next Personal Best? Are you on the verge of obtaining a Boston Qualification?  Are you searching for more? More workouts, more personal attention, more ways to improve?  Are you ready to take your training to the next level? Email the coach: sdtcnextlevel@gmail.com
Read more about our new Next Level Training Program: Next Level Full & Half Training Program
Mentoring Program – Sign up for a mentor!
First time in the RnR Program? Want personalized attention? We have experienced marathoners that can help! Contact Steve Scott at sdkurri17@gmail.com for more information.
Useful Links
Social Media
RnR Training Facebook group
SDTC Facebook group
Follow us on Social Media
Volunteering

– Make a Difference!
Volunteer Here
Saturday runs are a success thanks in part to our terrific volunteers and drop kings who supply and staff the water points for all runners.  They get up early, provide a great service for all of us, as well as cheer us on. Encourage friends and family to sign up, or give back on a weekend that you are not running!
Training

Calculators and Charts

Heart Rate Training Zones

– Given your age or a recent test, this calculator will give you an indicate of your target heart for various workouts.

Race time Prediction

– Given a recent race performance, this will give you an indication of what you could do at another distance.
Other helpful links
Nutrition
Meet the Coaches
We have a very talented coached staff at RnR. Get to know our RnR coaches and read their bios:
Meet the Coaches