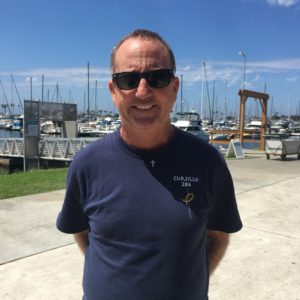 Paul Greer is a Professor in Health and Exercise Science at San Diego City College has a Master's Degree in Kinesiology and 36 years coaching experience. A top San Diego section miler at St. Augustine High School, Paul was inducted into the school's Hall of Fame in 1995. After high school he went on to become the school record holder for 1500 meters at San Diego State. His 3:42.44 still stands as the best mark in school history.
Greer also ran the mile in under four minutes (3:59.79), was a 1992 U.S. Olympic Trials qualifier at 1500 meters with a 3:39.05 and competed on the tough European track circuit as a post collegian. In addition Mr. Greer is the United States Track & Field President for San Diego and serves as Secretary for the USATF Cross Country Council. In 2016, he was selected to be the Men's Coach for Team USA's Senior (20-35) and Junior's teams (19 and under) at the Great Edinburgh Cross Country Championships.
In addition to teaching at San Diego City, Mr. Greer also coaches for the San Diego Track Club; the largest running club in San Diego. He works with over 500 runners and is the Director for the Rockin N Runnin full and half marathon training program that is celebrating its 25th year in 2022, preparing athletes every year for San Diego's Rock N Roll marathon/half marathon in June. Paul's workouts cater for runners of all ages and abilities and he provides training schedules to his athletes on an individual basis.
Contact Paul: pauliegreer@gmail.com or (858) 573-1500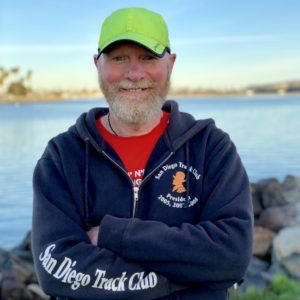 Bill Aaron received his Bachelor of Science degree from San Diego State University in Exercise and Nutritional Sciences with an emphasis in Fitness, Nutrition & Health. He is Head Cross-Country and Track & Field Coach at Kearny High.  He has coached cross-country at the intercollegiate level, and coaches ultra, full and half marathoners. A marathoner himself he has run 29 marathon since his first Rock and Roll Marathon in 1998, his personal best is 3hr and 31 min.
Contact Bill: billaaron@hotmail.com or (619) 209-1372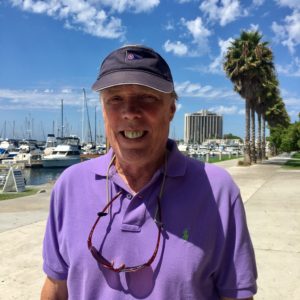 Dave "Hutch" Hutchinson brings to the program over thirty five years of his running and racing experiences with multiple marathons including a couple of Boston Marathons, a 2:44 marathon PR, a 1:18 half marathon PR and a 34:14 10K PR. He has mentored, coached and assisted many runners over the years and takes a personal interest in each and every runner. In the previous six years of this training program, the results speak for themselves with better than 50% of the Boston Group runners establishing both PR's and re-qualifications on the Boston course every year.
Contact Hutch: rnrboston@gmail.com or (406) 544-6005.
Mark Shimmin graduated from Cal State San Marcos with a double major in Criminology and Sociology while also competing in track and cross country. Post college, he did substitute teaching in Escondido elementary and middle schools which helped in his ability to teach. He is currently working as a Sports Massage Therapist with an emphasis on treating specific injuries and helping athletes prepare for competitions. As a runner, he has raced a variety of distances ranging from 800m to 10K on the track as well as various trail races such as the Dipsea Trail Race which he's done every year since 2008.
Contact Mark: mark.c.shimmin@gmail.com or 760-613-7591