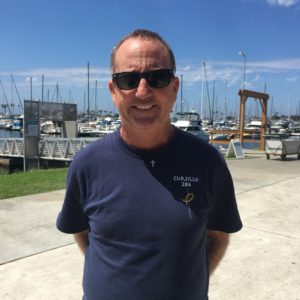 Paul Greer is a Professor in Health and Exercise Science at San Diego City College has a Master's Degree in Kinesiology and 37 years coaching experience. A top San Diego section miler at St. Augustine High School, Paul was inducted into the school's Hall of Fame in 1995. After high school he went on to become the school record holder for 1500 meters at San Diego State. His 3:42.44 still stands as the best mark in school history.
Greer also ran the mile in under four minutes (3:59.79), was a 1992 U.S. Olympic Trials qualifier at 1500 meters with a 3:39.05 and competed on the tough European track circuit as a post collegian. In addition Mr. Greer is the United States Track & Field President for San Diego and serves as Secretary for the USATF Cross Country Council. In 2016, he was selected to be the Men's Coach for Team USA's Senior (20-35) and Junior's teams (19 and under) at the Great Edinburgh Cross Country Championships.
In addition to teaching at San Diego City, Mr. Greer also coaches for the San Diego Track Club; the largest running club in San Diego. He works with over 500 runners and is the Director for the Rockin N Runnin full and half marathon training program that is celebrating its 25th year in 2022, preparing athletes every year for San Diego's Rock N Roll marathon/half marathon in June. Paul's workouts cater for runners of all ages and abilities and he provides training schedules to his athletes on an individual basis.
Contact Paul: pauliegreer@gmail.com or (858) 573-1500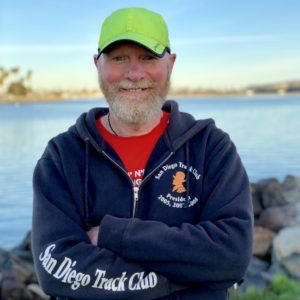 Bill Aaron holds a BS degree from SDSU in Exercise Science and a MA in Coaching and Athletic Administration. He is a former Head Cross-Country and Track & Field Coach at Kearny High and teaches running at SDSU.  He coaches runners from high school cross country, ultra, full and half marathoners. A marathoner himself he has run 36 marathons and is a Legacy Runner of the San Diego Rock and Roll Marathon, his personal best in the marathon is 3hr and 31 min.
Contact Bill: billaaron@hotmail.com or (619) 642-9693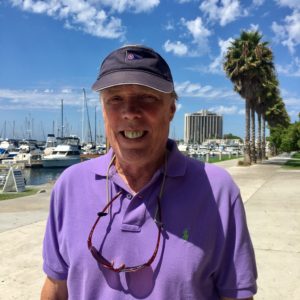 Dave "Hutch" Hutchinson brings to the program over thirty-five years of his running and racing experiences with multiple marathons including a couple of Boston Marathons, a 2:44 marathon PR, a 1:18 half marathon PR and a 34:14 10K PR. He has mentored, coached and assisted many runners over the years and takes a personal interest in each and every runner. In the previous six years of this training program, the results speak for themselves with better than 50% of the Boston Group runners establishing both PR's and re-qualifications on the Boston course every year.
Contact Hutch: rnrboston@gmail.com or (406) 544-6005.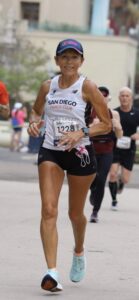 Tina Breen It's me, about to turn 66 years old and still going strong. I love running/racing for the pure joy
and adrenaline rush after a fast 5k! Like riding a roller coaster. I've always been active.
Staying healthy and fit are my main stays. I wouldn't have it any other way. Setting an
example to my young running friends encourages them that life just gets better as you get
older. With over 32 years of coaching experience, I love supporting others and being involved in the running community. I just want to share my joy with them and be a positive role model in our ever-changing world.
I'm currently
 the
 Vice President on our local USATF SD Association Board of Directors and a member of our SDTC Women's Master Team.
Contact Tina: coachmstina@gmail.com
Kathy Linenberger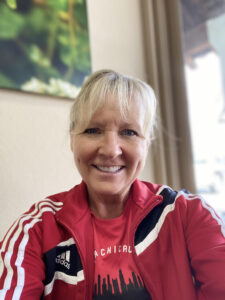 I LOVE TO RUN!!! I have been running since "forever"! I can't remember ever NOT running.
In January 2016, I joined SDTC Rockin' n Runnin' Training Program and successfully ran the San Diego Rock 'n Roll Marathon. While this was not my first Marathon, it was the best training program, coaching, and camaraderie that I had ever experienced! I found my running family!
Since joining SDTC, I have run nine Marathons, including Rock and Roll 2016, Mountains 2 Beach (M2B) in 2017, M2B in 2018, where I qualified for Boston, and in 2019 I ran Boston, Chicago, and Berlin. I have also run California International Marathon (CIM) in Sacramento in 2017 and 2021. I had fun training with my mentee and running the SDTC hosted Marathon in 2020. I have also run approximately 50 half marathons, numerous eight milers, 10K's, 5K's, and other distances.
I am also a proud member of the Women's Master Team and was awarded the Senior Masters Runner of the year in 2021.
One of my personal goals is to return to rerun the Boston marathon. In May, I will be running M2B. I will run the NYC Marathon in November 2022. After NYC, I hope to get into the Tokyo and London marathons as I am working towards completing the six World Marathon Majors.
I am so excited to be part of the C Group Coaching team! Working with Heart means I get to run with all of the fantastic C Group runners and talk about running too. My commitment to you is to share what I have learned over the many years I have been running, reading, researching, experimenting. Most importantly, sharing the knowledge I have gained from all of the highly experienced and knowledgeable coaches, runners, and guest speakers within SDTC.
I look forward to supporting you all on your journey to achieving your running goals. I encourage you to reach out if you have questions or want to get more insight or information on a topic.
Contact Kathy: SDTCHeartKathy@gmail.com.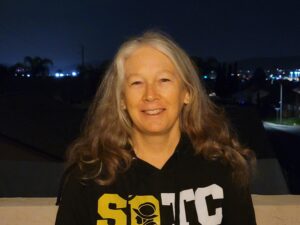 Amy Cliffe A flyer appeared on the fridge in the SICU breakroom in late 2012.  If you can run 3-4 miles, it said, you can train to run a marathon!  I was skeptical but intrigued.  I had always wanted to run a marathon but assumed I would never be able to do it.  Middle aged, unathletic, near sighted, clumsy……. not exactly marathon material. I signed up, anyway, hardly sleeping the night before the kickoff meeting in January 2013, where, to my relief, no one suggested that I might not belong.  I managed one mile on the track that day and prayed that Coach Paul wouldn't ask us to run another one.  It all seemed pretty daunting.
Saturday after Saturday, we met, and the mileage climbed.  6 miles, then 9, then 12.  I had never in my life run such long distances, and was amazed how, with good coaching and group support, I could actually do this. In June of that year, I ran the San Diego Rock n Roll Half Marathon and was smiling when I crossed the finish line.  I continued to run with SDTC, and at some point, persuaded (guilted?) my husband, Andy, to join me.  In 2015, we ran the M2B Marathon, a first for both of us.  Since then, we have run many other races, and have enjoyed training and racing together.
I am still middle aged, near sighted, and clumsy.  I no longer consider myself unathletic, however, and I have SDTC to thank for that.  It's been life changing in many ways: improved physical and mental health, friendships made, opportunities to volunteer.  This is my 10th Rockin' and Rollin' season with SDTC, and I am happy to be one of the coaches for the C group this year.  Whether your goal is to run a marathon, or just a mile, you will find the support and coaching you need in this program.  You will also make new friends and re-discover San Diego on our scenic long runs.
Welcome to SDTC, and the Rockin' n Runnin' Program!  I look forward to running with you.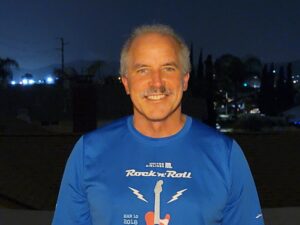 Andy Cliffe Oh, the places we'll go! My wife Amy joined the San Diego Track Club in January 2013 and completed the Rockin' 'n Runnin' Training Program and successfully ran the San Diego Rock 'n Roll Half Marathon. It was then in June 2013 I stopped being a couch potato and followed in Amy's footsteps to join SDTC. After 3 months of training, I ran the AFC Half Marathon and was hooked. In 2015 I ran my first marathon, M2B. By January 2018, my goal was to run a marathon-a-month for 2018; that was a success, injuries 'n all. Now with 24 marathons completed across 13 states & DC, my goal is to run a marathon in every state: and yes, to BQ somewhere along the way. I look forward to working with and morale-coaching folks in Group C in the miles and months ahead. Whether you're an experienced runner, run occasionally, or a novice who's "not sure if I belong here with all these real runners", you've come to the right place. The destination provides an utter sense of accomplishment. It's the coaching, morale, logistical support, camaraderie, adventure, and incredible scenery SDTC provides in your journey that will make a difference in your life. One step, 26.2 step!