Club Races
The Track Club presents several running events throughout the year. Some of the longest-standing running events in San Diego county were started by the Club and are managed by them still today!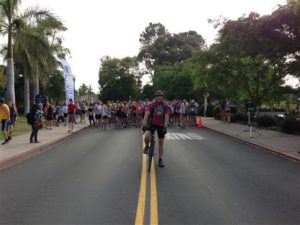 We strive to provide
affordable and family friendly
events for all abilities. Awards are typically provided by age groups in 5-year increments offering many the opportunity to be recognized. These classic events have been run by tens of thousands of runners over the years. We hope to see you at an event soon.
SDTC MEMBERS save even more on club race registrations plus many other special offers and discounts.

SUMMARY OF EVENTS – Please check the club Calendar for actual dates
Sue Krenn 15K
Honoring dear friend and passionate running enthusiast Sue Krenn who left us far too soon but left behind a legacy of giving and sharing. Typically held in February this flat, fast course from Mission Bay and around Fiesta Island is a blast.
Balboa 8 Miler
60 year old classic trail and road race up/down and around Balboa Park's famous plaza, amphitheater, bridge, world famous S.D. Zoo, hills and canyons. Usually held in August this 8 miler will challenge even the fittest athletes while providing spectacular views and up-close tour of this historic crown jewel centered in the downtown area.
Balboa 4 Mile (Cross Country)
The grand-daddy of them all. The historic Balboa 4 mile cross country is usually run as part of the cross country season and club teams line up to score big early in the season.
Ursula Rains Balboa Boogie 5K (Cross Country)
Classic Morley field cross country course run by local college and high school's for years. This course served as the national high school Foot Locker Cross Country Championships for many years. Great for spectators you'll face grass, dirt, horse trails over an invigorating and strategic course with a fast finish.
Chuck McMahon Memorial Track and Field Meet
The only masters (30+) track meet in the area. With fully automated timing on a fast, all weather track; a number of records have been set.