SDTC Tuesday Night Workouts
Club members converge to participate in structured interval workouts in a fun, supportive environment. While we normally have an open door policy and allow visitors to drop in, we are current limiting our workouts to SDTC members only due to COVID-19.
Renew SDTC Membership
We are currently limiting the group size and requiring sign-up ahead of time for our Metro SD group. 
Follow us on Facebook for updates: SDTC or SDTC North County

DETAILS:
Masks are required before and after workouts. Runners should stay at least 6 feet from others in accordance with SD County social distancing protocol.
Tuesday, January 12
5:30pm @ De Anza Cove – Sign Up Here!
C: Jog/stride 100 yards for 2 miles
B: Same as C, but 3 miles
A: Same as B
Tuesday, January 19
5:30pm @ De Anza Cove – Sign Up Here!
C: Fitness circuit 12 x 100 strides w/ calisthenics
B: 8 x 400 w/ calisthenics
A: Same as B
Tuesday, January 26
Sign Up Here
C: 3-Person Relay
B: Same
A: Same
Tuesday, February 2
Sign Up Here
C: 8 x 400s w/ calisthenics  between Intervals
B: 4 x 800s w/ calisthenics between Intervals
A: Same as B but 6 x 800
Tuesday, February 9
Sign Up Here
C: 4 x 5 min at threshold pace w/ 30 seconds btwn Intervals
B: Same as C
A: 10 x 400 w/ partners
Tuesday, February 16
Sign Up Here
C: 2 x 15 min @ threshold pace w/  3 min rest
B: Same as C
A: 5 x 800 @ 10K pace w/ 3 min recovery
Tuesday, February 23
Sign Up Here
C: 2 x 20 min @ threshold pace w / 3 min rest
B: Same as C
A: 4 x 1mile w/ 400 jog recovery
---
Training Calculators, Charts, & Info
---
More About SDTC #TrackTuesday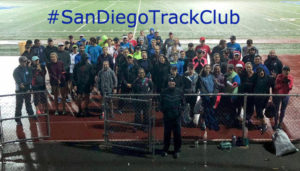 October – June
From late fall until early June (when the end of the Rockin' 'n' Runnin' Training Program ends), we meet at the track for our workouts.
June – October
Our Metro SD workouts during the late-Spring/Summer months are at beautiful, historic Balboa Park. We meet on the grass near 6th avenue at Nutmeg Street. You can't miss us. Just look for the big group of people with short shorts and running shoes on!
Our North County group meets at Discovery Lake in San Marcos. Please be courteous of local residents, and avoid the parking lot at the end of Foxhall. There is ample street parking in the area around the parking lot. We'll meet at the bridge at the bottom of the hill.
During summer, we start our workouts at 6pm. Please arrive early (~5:30pm) if you would like to warm up on your own. Happy running!
---
Visitors
You are welcome as a guest to participate in our workouts.  Runners who participate regularly are encouraged to join SDTC:
---
Meet the Coaches