SDTC Tuesday Night Workouts
Club members and visitors/guests converge to participate in structured interval workouts in a fun, supportive environment. We encourage you to try out a workout for FREE before joining SDTC.
Follow us on Facebook for updates: SDTC or SDTC North County
Target Heart Rate Calculator
A Group (7 min / mile and faster) = Led Zeppelin
B Group (7:30 to 9:00 min / mile) = Pink Floyd
C Group (9:30 min / mile and slower) = Foo Fighters
DETAILS:
Tuesday, April 23:
Balboa Stadium (map) @ 6:30pm
2 X 1600 Simulation: 1 X 400/1 X 600/1 X 400/1 X 200 with 200 jog recovery and 400 jog between sets
RnR Training:
A, B & C: 7 x 800 w/ 400 jog
San Marcos Middle School Track (map) @ 6:00pm
3-4 SETS
800m @ 5k pace
200m recovery jog
300m @ 1mile pace or faster
200m recovery jog
200m @ build to top speed
300m recovery jog between sets
Tuesday, April 30:
Balboa Stadium (map) @ 6:30pm
6 X 800 at 5K pace with 400 jog recovery jog
RnR Training:
A, B & C: 8×800 w/ 400 jog
San Marcos Middle School Track (map) @ 6:00pm
TBD
---
Training Calculators, Charts, & Info
---
More About SDTC #TrackTuesday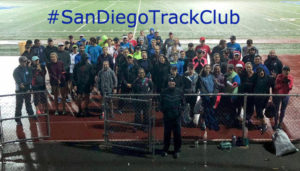 October – June
From late fall until early June (when the end of the Rockin' 'n' Runnin' Training Program ends), we meet at the track for our workouts.
June – October
Our Metro SD workouts during the late-Spring/Summer months are at beautiful, historic Balboa Park. We meet on the grass near 6th avenue at Nutmeg Street. You can't miss us. Just look for the big group of people with short shorts and running shoes on!
Our North County group meets at Discovery Lake in San Marcos. Please be courteous of local residents, and avoid the parking lot at the end of Foxhall. There is ample street parking in the area around the parking lot. We'll meet at the bridge at the bottom of the hill.
During summer, we start our workouts at 6pm. Please arrive early (~5:30pm) if you would like to warm up on your own. Happy running!
---
Visitors
You are welcome as a guest to participate in our workouts.  Runners who participate regularly are encouraged to join SDTC:
---
Meet the Coaches