SDTC Weekday Workouts
Club members converge to participate in structured interval workouts in a fun, supportive environment. We welcome runners to try out a workout or two for free before joining the club. Happy running!
Join/Renew SDTC Membership
Follow us on Facebook for updates: SDTC or SDTC North County
Metro San Diego
Tuesdays 6pm @ University City High School. We meet on the track, near the back of the school. There is parking available in the school's parking lot. Warmups are on your own, so please show up a bit early to give yourself time to warmup before the group workout begins. Please remember: We are guests on this track. Here are some TIPS for getting the most out of your workout.
December 6th: C| University City High School Track: Gerry Lindgren Run for 5000 meters   B| Same   A| Same
December 13th: C| TBA: 8 x 400's where a team of 8 people begin each 400 together running in each lane of the track. 2-minute recovery between intervals   B| Same   A| Same
The happiest holiday to you and your families! We will gather again Tuesday, January 3rd. Stay tuned for more details!
North County

Tuesdays 6pm @ Discovery Lake in San Marcos (map)
Email Coach Meriah to be added to her weekly workout email list.
Mark Your Calendars!
North County workouts will be moving to San Marcos Middle School track October 18th, 6pm! Stay tuned for more details.
---
Training Calculators, Charts, & Info
---
More About SDTC #TrackTuesday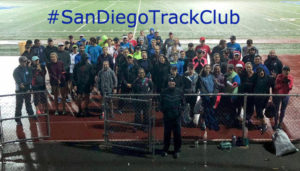 October – June
From late fall until early June (when the end of the Rockin' 'n' Runnin' Training Program ends), we meet at the track for our workouts.
June – October
Our Metro SD workouts during the late-Spring/Summer months are at beautiful, historic Balboa Park. We meet on the grass near 6th avenue at Nutmeg Street. You can't miss us. Just look for the big group of people with short shorts and running shoes on!
Our North County group meets at Discovery Lake in San Marcos. Please be courteous of local residents, and avoid the parking lot at the end of Foxhall. There is ample street parking in the area around the parking lot. We'll meet at the bridge at the bottom of the hill.
During summer, we start our workouts at 6pm. Please arrive early (~5:30pm) if you would like to warm up on your own. Happy running!
---
Visitors
You are welcome as a guest to participate in our workouts.  Runners who participate regularly are encouraged to join SDTC.
---
Meet the Coaches