2023 PAIN-McMAHON MASTERS TRACK & FIELD MEET
San Diego-Imperial USATF Association Masters Championship
Hosted by the San Diego Track Club
USATF Sanctioned Event ID: 143994

 Saturday, June 17th, 2023
WHAT:
2023 Pain-McMahon Masters Track & Field Meet
WHEN:
Track events start at 9AM. Field events start at 10AM
Saturday, June 17th, 2023
WHERE:
University City High School
6949 Genesee Ave, San Diego, CA 92122
REGISTRATION
All entries must be made online on Athletic.Net. There will be no day-of-meet entries.
Click HERE to register.
Entries will close on Thursday, June 15th, at 11:59PM.
MEET DESCRIPTION
This USATF sanctioned meet (Event ID: 143994) is hosted by the San Diego Track Club and
serves as the 2023 USATF San Diego-Imperial (SD-I) Association Masters Championships. The
meet is open to All Comers ages 30 and up. Everyone is encouraged to participate. This meet is
open to the public even if you are not a San Diego Track Club member or a USATF member.
USATF SD-I AWARDS ELIGIBILITY
San Diego-Imperial Association Championship medals are only for athletes who are 2023
members of the SD-I USATF Association. Proof of membership will be verified using the SD-I
membership rosters before the meet. Please be prepared by bringing your 2023 USATF
membership card or membership number and identification and present it to the Clerk of the
Course before checking in for your event.
AWARDS
All athletes placing in the top 3 for their event will receive a medal this year! Only SD-I
Association members will receive Association awards. If an athlete is not a USATF SD-I
member and places in the top 3 then a San Diego Track Club medal will be awarded. Medals to
the top 3 finishers in each division, men or women, and age group: 30-34; 35-39; 40-44; 45-49;
50-54; 55-59; 60-64; 65-69; 70-74; 75-79; 80-84; 85-89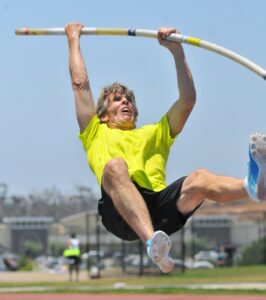 MEET STRUCTURE
The start times for the meet have been pushed back this year to accommodate athletes who are travelling from Arizona and the Los Angeles area. Last year there were athletes from Fresno! The pole vault has also been pushed back, starting at 12PM this year. Heats for running events will be determined by the division and age group you provide during registration. The meet director may combine heats that have only a few athletes. Every attempt will be made to have a separate heat for athletes 30-39 years, and 40 years and up. Running events that require lanes for the entire event will have heats by division and age group. These include the short hurdles, 50-, 100-, 200-, and 400-meter dashes. Note: we do not have 27-inch hurdles for the 80-meter hurdles race which unfortunately affects men 80+years and women 60+ years.
Masters athletes should use the proper division- and age-appropriate field equipment and throw age-appropriate implements. Proper field equipment and implements will be verified by USATF officials. Please bring your own equipment for the field and throwing events. For both track and field events, the heats and age groups will be merged into a single final set of results separated by divisions and age groups. SD-I Association awards will be given by division and age-group only to 2023 SD-I Association members. If an athlete is not a USATFSD-I member and places in the top 3 then a San Diego Track Club medal will be awarded.
ENTRY FEES
Online only. The registration fee is $20 per athlete plus $5 for each event.
PARKING AND CHECK-IN
Free parking will be at the University City High School parking lot. Enter the high school
grounds at the stop light at Genesee Avenue and Centurion Square, and bear right. The track is
west of the tennis courts. There are ~80 shaded parking spots to the left of the high school
entrance, heading toward the track.
6949 Genesee Ave, San Diego, CA 92122
There will be two shifts of volunteers: Shift 1 is 8AM to 2PM; Shift 2 is 9A to 3:30PM. Event
staff and the first shift of volunteers please check in with the Meet Director by 8AM. The head
of the USATF Officials will determine the Official's check-in time based on the event(s) they
are officiating.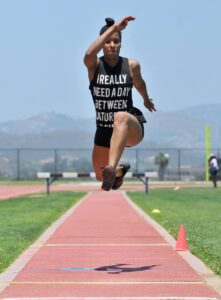 SPECTATORS AND PETS
Spectators are free and encouraged. Unfortunately, pets are not allowed at the meet.
MEET SCHEDULE
This schedule may change slightly depending on the number of entries. If you enter multiple events, especially in both track and field contests, please be aware of the start times for your events. This may influence your decision to enter back-to-back events. Every attempt has been made to schedule start times that do not interfere with competing in similar events, such as the dashes, and hurdles, or with field events. Women will compete first, followed by Men.
Track Events
9:00 AM – 3000 Meter Racewalk
9:35 AM – 3000 Meter Run (2 heats women, men, or combined)
9:55 AM – 80 Meter Hurdles (30-inches; women 40-59yrs)
10:20 AM – 100 Meter Hurdles (33-inches – men 60-69yrs, and women 35-39yrs;
36-inches – men 50-59yrs)
10:45 AM – 110 Meter Hurdles (39-inches – men 35-49yrs)
11:20 AM – 1 Mile Run (heats if needed 40-49yrs, 50+)
11:40 AM – 1 Mile Run (30-39yrs)
12:05 PM – 50 Meter Dash (heats if needed 30-39yrs, 40+)
12:30 PM – 800 Meter Run (heats if needed 30-39yrs, 40+)
1:00 PM – 200 Meter Run (heats if needed 30-39yrs, 40+)
1:30 PM – 100 Meter Dash (heats if needed 30-39yrs, 40+)
2:10 PM – 400 Meter Dash (heats if needed 30-39yrs, 40+)
Field Events
10:00 AM – Long Jump
10:30 AM – Shot Put
10:45 AM – High Jump
11:45 AM – Triple Jump
11:45 AM – Discus Throw
12:00 PM – Pole Vault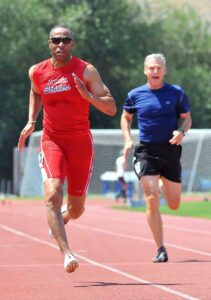 ATHLETE EVENT/COMPETITION CHECK-IN
Athletes must check-in with the Clerk of the Course a minimum of 30 minutes before the
athlete's event time (please see the schedule below). Of course, an athlete may check-in anytime
before that and as early as they would like. The exception is for the 3000-meter racewalk, the
first event of the day. Check-in time for the 3000-meter racewalk is no later than 8:40AM.
If you sign up for multiple events, you must check-in with the Clerk of the Course a minimum
of 30 minutes before the start of each event you signed up for. Call Times will be announced
and available at the Clerk of the Course popup tent.
Field event athletes should check in with the Clerk of the Course a minimum of 30 minutes prior
to their respective event, and check-in again with the USATF Official at their respective field
event location a minimum of 25 minutes prior to their event. Athletes competing in more than
one event simultaneously, or if their events have a potential overlapping time, they must check-
in and check-out with each official to avoid being scratched or disqualified if they miss a turn.
In other words, please don't just disappear and go to your other event. Check-out and check
back in.
SPIKES
Only shoes with pyramid spikes no longer than 1/4 inch (6mm) are acceptable. Pin, Christmas Tree or needle spikes will not be allowed.
WEIGHTS AND MEASURES
Athletes must provide their own implements. Athletes must weigh-in all throwing implements. Implement weigh-in will be located on the northwest corner of the track.
TIMING
Timing will be done with a fully automatic timing system.
RESULTS
Results print outs will be available to see at the awards tent popup. Complete results will be posted a couple days after the meet on Athletic.Net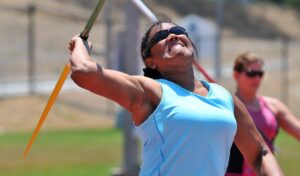 CONTACT
Dan Trone, Director
Pain-McMahon Track & Field Meet
E-Mail: Pain_McMahon_Meet@Yahoo.Com
MCDuffrie Allen
Masters Track & Field Chair
Director Masters T&F
USATF San Diego-Imperial
SAN DIEGO TRACK CLUB
To learn more about the San Diego Track Club and for membership information please visit:
https://sandiegotrackclub.org/
https://sandiegotrackclub.org/history/
USATF
To learn more about the USATF and for membership information please visit:
https://www.usatf.org/home/top-utility-nav-content/membership
USATF MASTER TRACK
To learn more about the USATF Masters Track Program please visit:
https://usatfmasters.org/
CHUCK MCMAHON
To learn more about Chuck McMahon please visit:
https://sandiegotrackclub.org/who-was-chuck-mcmahon/
DAVID PAIN
To learn more about David Pain and Masters Track & Field please visit:
https://timesofsandiego.com/sports/2019/02/15/david-pain-dies-at-96-masters-track-founder-inspired-1st-triathlon/