Who is Chuck McMahon? Why does he have a Masters track meet named after him, and what does any of this have to do with SDTC? Those are great questions! Let me tell you a little bit more about each….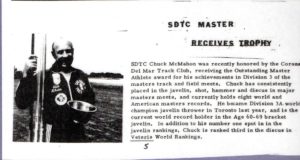 The Man
Chuck McMahon started his track & field career as a young man, growing up in the Chicago area. He won a number of regional and national medals, and was named captain of his high school track & field team in his senior year.
As an adult, McMahon settled in Southern California, where he had a successful career in the construction industry. He continued to pursue his love of track & field, and discovered a particular talent for throwing events. He threw shot put, discuss, javelin, and hammer, and won a variety of medals and titles in each. As a Masters athlete, he set an number of American and World records in the throwing events.
Chuck McMahon was a lifetime member of San Diego Track Club, and when we was no longer able to complete due to his health, he donated his equipment to the community.
For more information about Chuck McMahon, see the articles at the end of this blog post.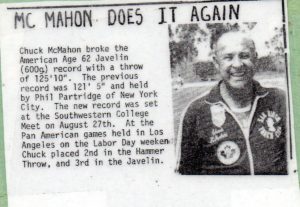 The Meet
When McMahon passed away in 1994, he left an endowment in his will to promote Masters track & field in San Diego. This endowment allowed San Diego Track Club, in conjuction with USATF San Diego, to sponsor the Chuck McMahon Memorial Track Meet. The meet, which started in 1999, serves as an opportunity for runners ages 30 and up to compete in a variety of track & field events.
Additional Articles
Article in the SDTC News, June 1987:
Equipment Donation:
Obituaries: