The SDTC Boston Training Program 2023 is officially closed!

Thank you to everyone who signed up for the 2023 SDTC Boston Training Program! We have officially closed registration for the 2023 season! Best of luck with your training for Boston 2024! We welcome you back then!
Now that you have registered and been accepted into the Boston Marathon, why not train with the most successful local training program in San Diego?! 
Qualifying and being accepted into the Boston Marathon is an amazing accomplishment! Train with our group to help you stay focused and build friendships with other Boston-bound runners as you prepare to conquer the course.
This program is presented by the San Diego Track Club. It is perfect whether you are training for your first Boston Marathon or are an experienced runner. It will help you train for a new PR with other Boston-bound runners.
Registration includes:
22-week training plan designed and led by Coach Dave "Hutch" Hutchinson in his 13th Boston season
Specially designed limited edition 2023 tech shirt

(If registered by Jan. 1, 2023)




Long run aid station support

Pre-trip Boston "send-off" team dinner

(If registered for and running the Boston Marathon)

"No host" post Boston dinner in downtown Boston
Prepaid entry in to one local event/race
Special small group events such as seminars on injury prevention, nutrition, equipment and more
Past participants have gone on to form lifelong friendships and share in the journey to Hopkinton!
MORE INFO:
While those running Boston are generally considered to be "faster" runners, they represent all age groups and thus paces. Recognizing that, all efforts are made to accommodate every runner. One of the most important concerns is keeping you healthy and injury free. In that regard, should injuries develop, all necessary training plan adaptations will be made as will recommendations and referrals to the proper physical therapy and/or medical providers enabling you to get back on the training schedule.
The 22-week Boston training program, with about 40-50 runners, is separate but a part of the 26th annual Rock 'N Roll training program (RNRMTP) which commences the first Saturday of the new year. All the benefits of that program with a couple hundred runners are included and incorporated into the Boston training. Tuesday evening track work in the lighted stadium, long run water station support, guest speakers, and all the other RNRMTP offerings will continue to be available to you post Boston.
On Sept. 1st, the SDTC Boston Training Program will commence signups for those who have been accepted into, and desire to train with us, for the April 17th, 2023, Boston Marathon. After registration for Boston training, coach Hutch will be sending you an introductory email and questionnaire that will better help him assess your current condition, goals, and possible training plan modifications to keep you healthy.
Qualifying and being accepted into Boston is an admirable accomplishment and you now have the opportunity to train specifically for that iconic course and race with 40-50 others like yourself who will help you stay focused while building friendships with other like-minded Bostonians.
The SDTC race specific training program takes advantage of our ideal winter weather and the variety of our terrain to best prepare you for the Boston course which includes the well-known "Heartbreak Hill". Every year a significant number of the Bostonians end up running a PR on this challenging course which is a testimony to this specific training plan.
PRICING:
* Sept 1st – Sep 30th = $110 for 2023 SDTC members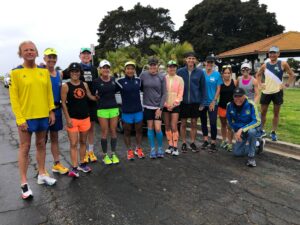 * Oct 1st – Nov 12th = $120 for 2023 SDTC members
* Nov 13th – Dec 31st = $130 for 2023 SDTC members
* After Jan 1st = $140 for 2023 SDTC members

Cost of the program does not include entry into the Boston Marathon.
COACHES:

Dave "Hutch" Hutchinson
Boston Training Coach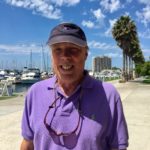 "Hutch" brings to the program his years of experience with two Boston Marathons, seventeen total marathons, a 2:44 marathon PR, a 1:18 half marathon PR, and over thirty-five years of running and racing. He has mentored, coached and assisted many runners over the years and takes a personal interest in each and every runner.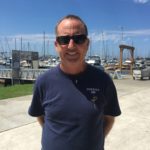 Paul Greer
RnR Training Program Director & SDTC Metro Division Coach
WELCOME TO BOSTON 2023!