Rockin' 'n' Runnin' Marathon & Half Marathon Training Program
Join SDTC for our 26th Annual RnR Training Program and train for your best race yet!!
RnR Training Program + 2023 Membership REGISTER TODAY!
RnR Training Program REGISTER TODAY!
REGISTRATION FOR THE 2023 ROCKIN' 'N' RUNNIN' TRAINING PROGRAM OPENS ON OCTOBER 1ST
Training is scheduled to begin on January 7th, 2023. Rockin' 'n' Runnin' Training Program cost (plus $55 SDTC membership):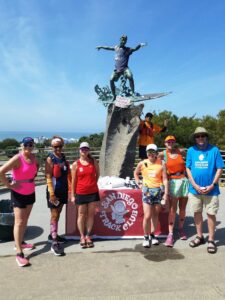 $95 + $55 SDTC 2023 Membership = $150 until Oct. 31st, 2022

$115 + $55 SDTC 2023 Membership = $170 until Nov. 30th, 2022

$120 + $55 SDTC 2023 Membership = $175 until Dec. 31st, 2022

$135 + $55 SDTC 2023 Membership = $190 until Jan. 31st, 2023
$150 + $55 SDTC 2023 Membership = $205 Feb. 1st, 2023
No one will be turned away due to financial hardship. We know that this has been an especially difficult year for many people. Apply for a scholarship here.
Interested in advanced training? Learn about our Next Level Program
We are a 503(c)(3) non-profit whose mission is to support long-distance running in San Diego County. If you would like to help fund a scholarship or support our non-profit, we encourage you to make a tax-deductible donation via our website or email us for more information. Thank you for making a difference!
Here are just some benefits that you get with this program: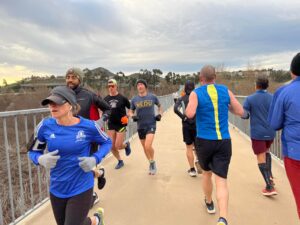 Runners will receive coaching from early January through early June
Weekly schedules, with daily training recommendations
Saturday long runs with Vitalyte and water stations
Coached Tuesday interval workouts
Custom RnR program shirt, Coach Paul's published book, and a SDTC runner's backpack
Complimentary entry into the Kook 10k race (transaction fee will need to be paid at time of race registration)
Running and fitness-related educational seminars
Program participant Facebook group
Personal mentoring. Our mentors have many years of running experience and will help guide you through your training and the RnR program.
Targeted Races:
San Diego Rock N Roll Half & Full Marathon
San Diego Half Marathon
The Kook 10k
This program may be adapted for any spring/summer full or half marathon and many other races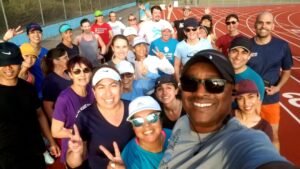 Rockin' n' Runnin' runners come from all walks of life and all levels of experience. Many are running their first 26-miler or half marathon, while others are hoping to set personal records in repeat performances. You'll have assistance and guidance throughout this life changing program. Weekly mileage runs will build steadily and safely to avoid injury. (Runners entering the program should already be able to run continuously for thirty minutes at the start.)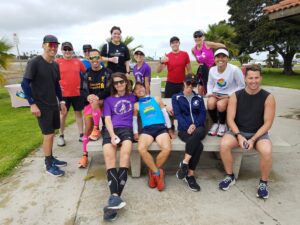 The training program will include weekly Tuesday night group "track" workouts and Saturday morning long runs with aid station support, seminar speakers, access to a members-only marathon and half marathon training website with weekly training schedules, and long run course maps/route descriptions.

About Us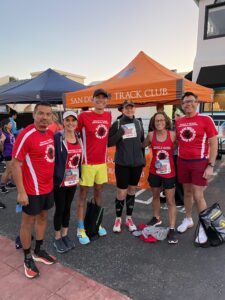 "I would highly recommend Coach Paul Greer to continue to prepare people to run a half marathon or full marathons. His work with the SDTC's Rockin' 'n' Runnin' Program is amazing… So, don't wait any longer and get involved with the SDTC's Rockin' 'n' Runnin' program and join Paul to be the best you can be." – Meb Keflezighi, 2014 Boston Marathon Champion
"I've participated with over 400 teams and organizations in my life but this undoubtedly the finest organization I've ever been part of. Paul Greer has to be the most inspirational coach a person could ever have and has become an icon in San Diego County. The volunteers do a fantastic job. A more giving group of people does not exist… there is enough inspiration to train even on the most unmotivated days." – Terry B., 11-year member
Coaches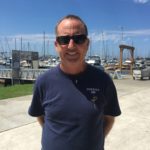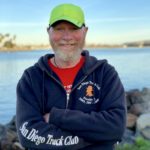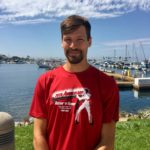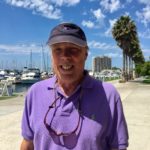 Notes