Revel Mt. Charleston Marathon Race Review
By: Leslie Sanchez
If you are a BQ hopeful, the Revel Mt. Charleston Marathon may be the race for you.
I had Boston Qualified at the California International Marathon in December, with a little over a 2 minute margin of my qualifying time. Running the Boston Marathon is a bucket list goal for me and I wanted to run a follow-up race that would give me a large enough margin to guarantee registration. The Revel Mt. Charleston Marathon in Las Vegas was it.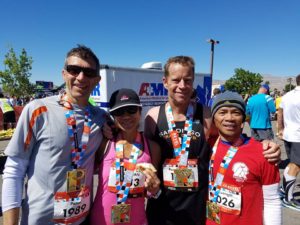 Revel put on a very well organized, small field size race. Communication from race organizers was great; packet pick up was super easy; executive shuttle buses transported the runners to the start line; and there were more than enough port-a-potties at the start line area to keep lines shorter.
The course begins at just over 7500 ft above sea level on Mt. Charleston, which was still snowcapped during our race. Temps were in the 30s at the start line. I ran in a tank top and shorts knowing it would warm up as I ran down the mountain. The Mylar blanket and gloves included in our swag bag from the expo came in handy while I waited in the start area. I kept the gloves on until about Mile 10.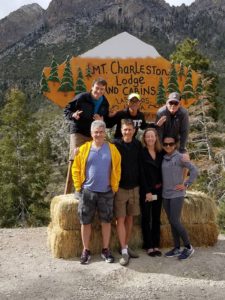 Despite the annoying headwinds and crosswinds throughout, it was a fast downhill course, particularly during the first 21-22 miles. The last 4-5 miles included some rolling hills, which felt really challenging after running downhill for so long. It got very bright and sunny as the morning progressed, but it wasn't anything a hat and a good pair of sunglasses couldn't take care of.
If you're okay with minimal crowd support to keep you motivated during long distance races, this race IS for you. Roads up Mt. Charleston are closed off to thru traffic, so aside from the water stations located approximately every two miles, THERE IS NO CROWD SUPPORT DURING THE FIRST 21-22 MILES.
If you can fit in long run training on downhill terrain, this race IS for you. The net elevation drop is 5,126 ft over the marathon course. Your quads may be screaming at you well before you cross the finish line if they're not adequately conditioned for this course, as it did for many who ended up walking. In addition to doing eccentric load exercises to strengthen quadriceps, my training group and I did several downhill long runs starting at the top of Mt. Palomar, ending down in the Lake Henshaw area, to prepare for this race. The group I trained with consisted of veteran marathoners who had either Boston Qualified in the past or were really close to their BQ time in a previous marathon. Six out of seven of these SDTC runners that trained for Mt. Charleston together BQ'd.
Lastly, Revel Mt. Charleston IS also for you if you can live with the criticism from other SDTC runners about achieving a Boston Qualifier on this course. I was shocked at the negative comments I had read on public forums from fellow SDTC runners delegitimizing the accomplishment of those who BQ'd in Mt. Charleston. This is a USATF certified Boston-qualifying marathon course. Where is the spirit of camaraderie that is supposed to be reflected in the slogan "Boston Strong"? Any runner who disses (disrespects) the efforts of their fellow runners should be ashamed of themselves.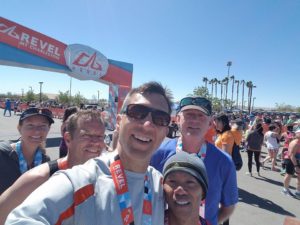 I hope to be running long distance races for many more years to come. I hope I can continue to get faster and improve running efficiency. But I know that a healthy diet and active lifestyle today will not necessarily guarantee my good health or ability to run well tomorrow. Running the Boston Marathon is a bucket list goal that I really wanted to accomplish in this lifetime. The Revel Mt. Charleston Marathon was the golden ticket race that will allow me to register and crush that goal sooner rather than later.
If qualifying for the Boston Marathon is a bucket list goal for you, then it is best to carefully consider your qualifier race, the time commitment and practicality of training for that race, as well as your fitness level/health and ability to sustain such training.
Personally, I enjoyed the Revel Mt. Charleston Marathon experience (and celebrating in Vegas afterward). Would I do this race again? Absolutely.