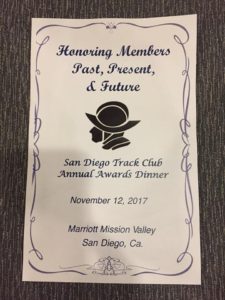 The SDTC Annual Meeting and Awards Dinner is always a wonderful opportunity to get together off the track and celebrate our members who have gone above and beyond during the past year and throughout the years.
While we only handed out a small number of awards, we greatly appreciate the over 250 individuals volunteer this year at SDTC events! Each of our award winners is highlighted in the email below.
Thank you for making a difference!
Women's Open Team Award – Stephanie Flynn
Stephanie Flynn is our Women's Open Team in a nut shell. Setting goals and working hard to achieve them are the core of who she is as both a runner and a woman. She has met adversity with grace and poise, always cool and collected even when the course is hot and unforgiving. She is always there to encourage and support all of her SDTC teammates with her playful and heartfelt enthusiasm. We are so fortunate to have her as a part of our team and our lives, and it as a joy to celebrate her many achievements of 2017!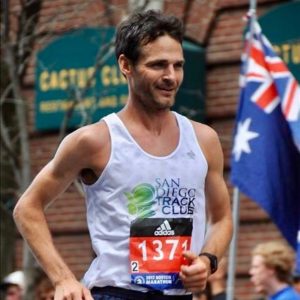 Men's Open Team Award – Alex Samarin
Alex Samarin has had a stellar 2017 season with PR's in the Marathon at Boston 2:42:56 (And in hot conditions) , and then at the Old Pros 10K in 33:22.  He is currently 12th in the Dirt Dog individual standings.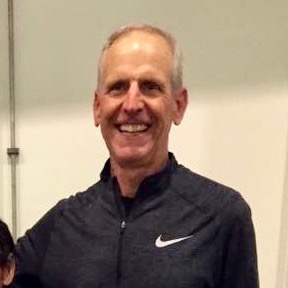 Men's Masters Team Award – Gordon Lutes
Gordon Lutes was a highly competitive Masters Runner in the SDTC member back in the 1970s and 80s.  His marathon PR as a 40+ runner is 2 hours 39 minutes.   When Gordon turned 70 he became competitively active for SDTC again and has been a very responsive SDTC team member in all ways.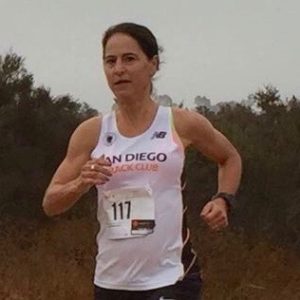 Women's Masters Team Award – Roseann Parry
Rosann Parry has been on the SDTC Masters Women's Team member for almost 9 years.  She has excelled in running since high school cross country, and ran track at USC (3K, 5K, 10K).  She has run several marathons, including several Boston Marathons.  Roseann always places at the top of her age group (i.e. First Master Woman at the 2017 La Jolla ½ Marathon).  She has represented SDTC in the USATF Dirt Dog Series each year, scoring at the top of her age group.  At this year's Dirt Dog Series, she placed 4th in the 50+ age division, and was on the 1st place 50+ team.  Roseann has plans to participate in some of the 2018 USATF National Championship events.  We are so very fortunate to have Roseann on our team!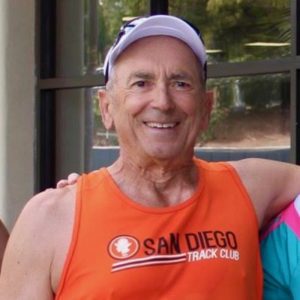 Volunteer of the Year – Mike Wood
Mike Wood has received the Volunteer of the Year Award in recognition of his many, many years of making sure members of San Diego Track Club stay hydrated at their Tuesday night workouts, something he has been doing for years, rain or shine, injuries or not he still brings the fluids to practice.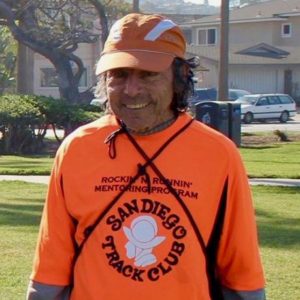 Spirit Award –  Peter Stern
Peter Stern is a former board member and was one of the club's webmasters in the early years of the internet.  He was also one of our prolific newsletter writers.  His volunteering at anything San Diego Track Club does is legendary. If you have ever been to a Rockin' 'n' Runnin' Training Program run, he was there as the keeper of home base no matter the location and is the go-to guy for pretzels.
Dale Larabee Lifetime Service Awards – Joni Shirley & Alan Olson
Joni Shirley
Joni was SDTC Long Distance Running Chairman for 4 years, SDTC Vice President – 1987, SDTC President – 1988 & 1993, Race Director of Mission Bay 25K for 8 years, USA Track & Field Official – 15 years, 6 time recipient of the USA Track & Field Athlete of the Year award from the San Diego-Imperial Association, Won 13 National Championships (10 on the track & 3 on the roads) with the best times in the 1500m of 4:54.96 and in the 800m in 2:25.30 after the age of 40.
Alan Olson
Alan graduated from Arizona State University in 1964 with a degree in Math. He worked full time for the US Navy for 51 years until age 73.5. He is now 75 years old and has been running his whole life starting on his own at age 9.
CONTRIBUTION HIGHLIGHTS:
1977: SDTC President:  Attained 2200 paid members, most ever in history of SDTC
1975-1987: Member of SDTC Board of Directors
1976-1980: Assistant SDTC Newsletter Editor
1975-1987: SDTC race director and/or co-race director for dozens of SDTC sponsored Track & Field meets, XC, and road races
1980-1987: Founded and co-President of Sports Consultants with Tom LaPuzza putting on approximately 125 events: biathlons, triathlons, and road races. Most notable being the La Jolla Half Marathon we founded in 1981 and directed for its first 4 years.
2012-present: Captain of the SDTC Men's 70+ Team which have won every Dirt Dog Team Championship for the past 5  years (2012-2016).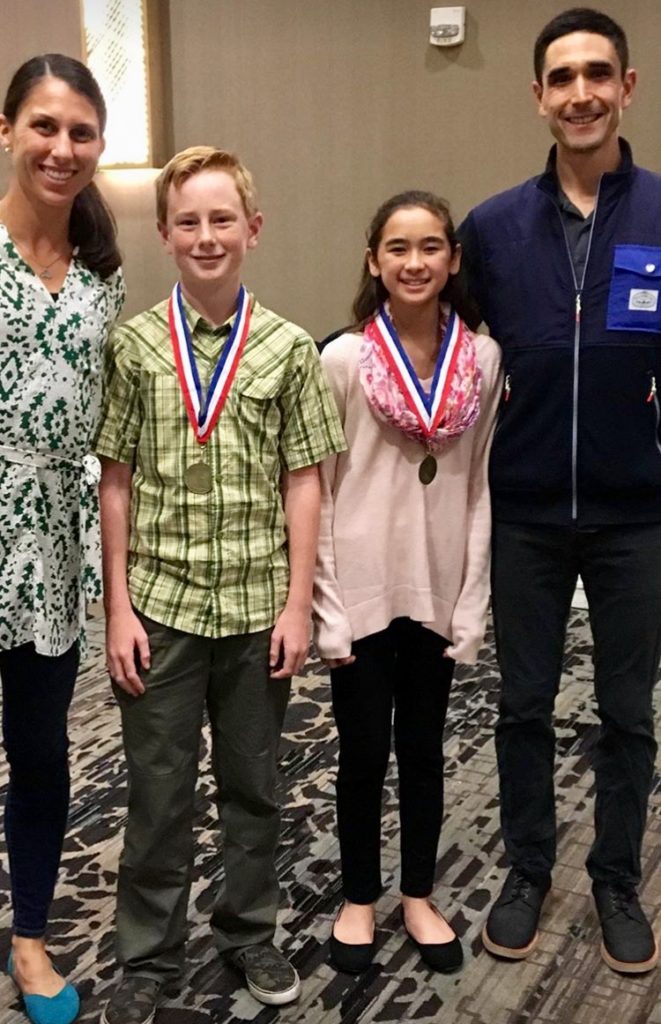 Girl Runner of the Year – Laura Harry

Laura Harry has been part of the 2nd Recess program for 3 years and has continued to grow in running.  She always pushes herself to go above-and-beyond what is asked of her, and loves getting in extra pushups and situps post-practice.  Laura demonstrates the 3 P's (patience, positivity, and perseverance) in both sport and life, and does it with a smile.
Boy Runner of the Year – Rio Harrel
Rio is committed to always trying his best.  His quiet dedication is admired by his coaches, and he truly works to build himself as the best athlete and person he can be.