FOAM ROLLING THE SHIN AREA
(To avoid getting shin splints and relieve tightness in the front of your leg)
Kneel and place the roller under both shins while supporting your upper body with your hands.
Roll down to your ankles and back to the knees. Be careful not to roll over the knee joint.
Remember to roll down the ankle to get the entire shin.
The shins are often a neglected area—athletes often focus on the back of the leg.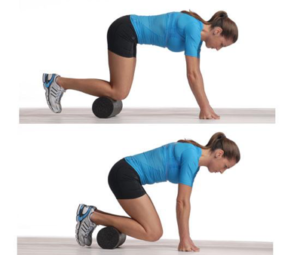 INCHWORM (Release for Glutes, hamstrings and Calves)
Stand with your legs straight, feet hip-width apart (A).
Bend at the waist and place your hands on the floor (B).
Keeping your legs straight, walk your hands forward while keeping your abs and lower back braced. Then take tiny steps to walk your feet back to your hands