Tips for Running
By: Coach Paul Greer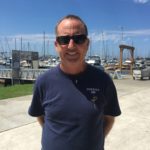 During the 33 years of coaching the San Diego Track Club many people have approached me who are taking up the sport of running for the first time.  Provided are a few guidelines to follow as you begin and continue with the lifelong activity of running:
1) Keep in mind that everyone improves at a different rate and some people can jog for an hour after 4 weeks, others take 4 months or a year to reach that point.  Don't get discouraged.  Continue to work at your aerobic level and listen to your own body.  Eventually you will get there.
2) Your reward from running done gradually, comfortably, and pleasantly will be a new life.  You will look and feel better physically and mentally.
3) Think of running and exercise in terms of frequency not intensity, pleasure not pain.  Use it as a reward to yourself.
4) In warm weather, run early in the mornings or
evenings.
5) Exercise is cumulative so look for the long term results.
6) Vary your running periodically and this will keep running a fresh experience.
Finally, think positive thoughts and you will improve.