T9 Mermaid Half Marathon San Diego
Saturday, February 10th 2018
While many people sleep in on Saturdays, our athletes are almost always up before the sun. February 10th was no exception.
Some of our runners (Jennifer Echols, Susie Reyes, Diana King, and Mary Beth Yusunas) woke up extra early to help with registration at the Mermaid Half in Mission Bay. They did such a great job (for the 2nd year in a row), the race directors specially thanked SDTC!
Some of our runners also competed in the race and did really well! A special shout out to SDTC Women's Open Team runner Jessica Karlsson who won the women's field in the 5k and Mary Beth Yusunas on a PR!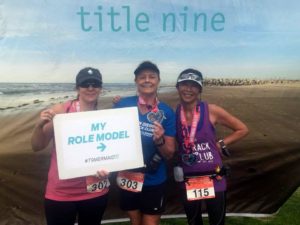 Mermaid Half also offered a virtual half option which Desiree Hernandez chose to do, completing her half marathon in beautiful Coronado Island.
Congrats runners & volunteers…We are so proud of you!
---
SDTC Age Group & Overall Winners
Congratulate these speedy folks next time you see them!!!
Full Results and Race Info: Mermaid Series Website
| | | | |
| --- | --- | --- | --- |
| Name | Race | Place | Time |
| | | | |
| Jessica Karlsson | 5k | 1st Overall | 0:18:59 |
| Mary Beth Yusunas | Half | 1st AG F60-64 | 2:17:18 |
| Carol Yong | Half | 2nd AG F60-64 | 2:24:53 |
If your name should be on this list and isn't, don't panic! It was an honest mistake. Email us and we will add you.