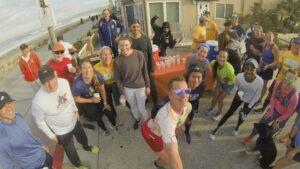 We are re-opening registration for the Summer 2 Autumn Running Program.
Check back soon!
Hundreds of runners of all abilities have attained their event goals and benefited from our full and half marathon training programs. Meet new friends, get specialized training schedules, run in a group environment, be more confident in your event, learn about running fitness and racing tactics, and more. Programs sell out fast and ONLY registered participants can participate.
---
Training for a Fall Full Marathon?
SDTC provides hydration support on the course for those training in the summer and fall program. If you are thinking about running a full or half marathon this summer or fall, then SDTC is here to help! We can help get your ready to toe the line and finish your event with arms raised in victory.  Email us for additional information.
---
Summer 2 Autumn Half & Full Marathon Training Program 2023
The Summer 2 Autumn Training Program will run from June 17th – December 9th, 2023.
This program will re-open shortly!
Includes aid station support & online training schedule.
Coached Tuesday and Saturday group workouts
Program includes train run, socials, half or full distance training schedules.
Private Facebook group for program participants
Program shirts are not available currently. When they arrive, you have the option to purchase one.
This is a great training program for those wishing to maintain their fitness level from the RnR Program. The focus is on maintaining fitness for a wider variety of events. Group size is limited to around 200 runners.
Jameson Rienick and Rashaad Forehand lead summer runs that take place at Lake Murray, Harbor Island, Balboa Park, Point Loma, Pacific Beach and Coronado. The program has its own website to find weekly and monthly schedules, maps and directions to the start. Supported aid stations feature ice-cold water and an electrolyte drink are provided. We also gather for the Tuesday evening workouts at Balboa Park that are led by Metro SD Coach Paul Greer. The program ends with the annual Christmas Card Lane Run in December.
With so many races available, it's the perfect training program to get you ready for anything. Thinking about racing a trail half marathon? Great! SDTC will get you ready! You're interested in racing the Balboa 8 Miler? Perfect. SDTC will get you ready! Thinking about racing America's Finest City Half Marathon? We can get you there! All you have to do is just show up!
---