Looking for the schedule?  Want to volunteer?  Where can I find the course map for this coming week?  Have questions?  Below are the contacts, training schedule, volunteer links, and the course maps for the remainder of the 2018 Whatever Half Training Program.
Whatever Half Program Survey
Your feedback is appreciate. Help us make next year even better!
Program Survey
Weekly Information

Last Run of the 2018 Whatever Half Program!
Date/Time: December 8th @ 7:00 am
Location: Christmas Card Lane (map)
Meet at the Park & Ride @ Carmel Mountain Road & Freeport Road
Workout: A, B, & C: Up to 1 hour with support
Weekly Newsletter: Week 14
Volunteer: click here
Tuesday Workouts: click here
Notes:
— Best Holiday Costume & Closest Predicted Time Awards:
Keeping with tradition, there will be a $25 gift card awarded to the runner with the best holiday costume and a $25 gift card awarded to the runner with the closed predicted finish time. Watches, tracking apps, and headphones will NOT be allowed during the run for those who want to participate in the time prediction contest.
— Potluck:
Bring a dish to share after the run! It doesn't have to be anything special but some holiday cookies or donuts are always delicious! We encourage you to hang out after the run an celebrate the end of a great season. We typically do some "thank you's" for those who made the program possible.
Rockin' 'n' Runnin' Training Program
Sign up by Friday to save on RnR Training!
https://sandiegotrackclub.org/rnr/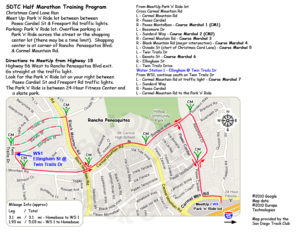 Training Schedules

September
October
November
December
A Group (7 min / mile and faster)
B Group (7:30 to 9:00 min / mile)
C Group (9:30 min / mile and slower)
Social Media
Whatever Half Facebook group
SDTC Facebook group
SDTC Facebook page
Instagram
Other Social Media
Contacts
Jameson Rienick – jameson.rienick@gmail.com
Kate Garcia – kateg92116@gmail.com
Jessie McBride (Communications / Facebook / Website) – membership@sandiegotrackclub.org
Volunteer Coordinator – sdtcvolunteer@gmail.com