Tuesday Night Metro Workouts
SUMMARY:
When: Tuesdays @ 6:00pm
Location: Balboa Stadium @ San Diego High School Map
What: Club members and visitors/guests converge to participate in structured interval workouts in a fun, supportive environment.
DETAILS: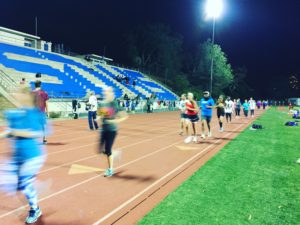 1/10/2017:
– A group: 2 mile simulation plus 8 x 100 strides
– B & C groups: 8 laps of stride the straightaways, then jog the curves.
1/17/2017: 8×400's with calisthenics and 100 strides between
1/24/2017: 3-Person Relay whereby everyone run 12×200's
1/31/2017: 400/800/1000/20 min Steady Tempo Run followed by 1000/800/400
2/7/2017: 6×800's with calisthenics and 100 strides between
2/14/2017: 3K Time Trial followed by 8×100 strides
2/21/2017: 4 x 1200's at 5K pace with 3 min rest between intervals.
2/28/2017: 4 x 1 mile at 5K pace with 400 jog recovery between each interval.
3/7/2017: 12 x 400's at 5K pace with 2 min recovery between each interval.
3/14/2017: 5 Sets of 800/300's whereby you run the 800 meters at 5K pace followed by 100 jog and run 300 meters at 1 mile race pace with a 400 jog between sets.
3/21/2017: Fartlek Run: 1min/2min/3min/4min/5min/4min/3min/2min/1min on/off at 5K pace.
3/28/2017: 6 x 800's at 5K pace with 3 min recovery between each interval.
Tuesday

Evening Tempo Run Workouts Target Heart Rate Zones
Tempo Runs are excellent for developing stamina, confidence and sense of pace. What's the physiological "secret" behind this type of training? It raises your lactate threshold velocity, the running speed above which fatigue sets in quickly. As your lactate threshold threshold velocity increases you'll run at faster speeds without getting tired. Tempo runs are an excellent "bridge" to racing; they require you to run hard for relatively long periods. When you attend
Tuesday
evening workouts you will be expected to know your lactate threshold heart rate pace so you will be asked to measure your intensity by taking your pulse during these workouts. You will be instructed throughout each workout to take your pulse for 6 seconds and multiply that number by 10. To determine your lactate threshold heart rate pace, Coach Paul asks that you when you are at the San Diego Track Club Website under the link "Heart Rate Training Zones"press the heart rate training zones icon. Once you arrive at that link simply type in your resting
heart rate and age. Scroll down to Threshold Pace (min) and Threshold Pace (max) and the heart rates that you need to aim between will be available for viewing.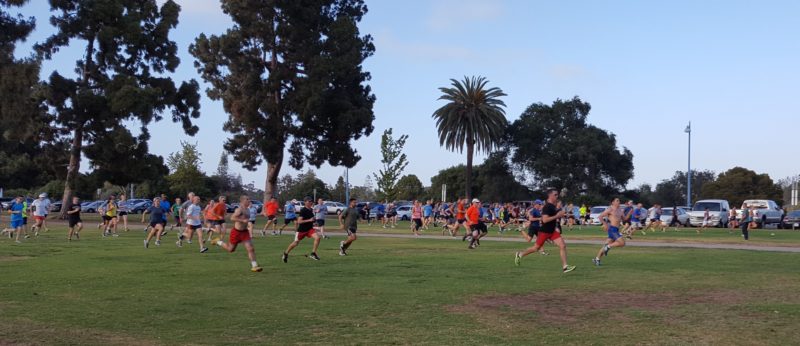 From late fall until the end of the Rockin' 'n' Runnin' program ends in June, we meet at
Balboa Stadium
for track workouts. 
Map
Workout begin at 6:00pm. You are encouraged to warm up and stretch on our own prior to 6:00pm so that you are ready to start on time.
The Track Club workouts during the late-Spring/Summer months are at beautiful, historic Balboa Park. We meet on the grass near 6th avenue at Nutmeg Street. You can't miss us. Just look for the big group of people with short shorts and running shoes on!
Visitors
– You are welcome as a guest to participate in our workouts.  San Diego residents who participate regularly are encouraged to 
join
the Track Club as a member. Individual membership is only $50.00 / yr. and you can sign up online by visiting the Membership page.
Track Etiquette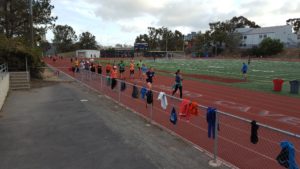 Some general rules for you to remember:
Do wear your Track Club shirt, singlet or club apparel. School officials will be policing visitors, including those who use their facilities after hours.
Do allow time to park in a nearby lot and remember we will finish in the dark, so pick a safe place.
Do understand numerous groups use the field and track; don't start warming up on the field or oval if another group is still using it. Wait your turn.
Do make sure you look both ways before you cross over to the field upon arrival or departure. Listen carefully. If someone yells "Track!" it means a fast runner is approaching in Lane 1 or 2 and someone is blocking it.
Do respect others' paces. When we have large groups, such as during our marathon training season, the following designations exist:

Lanes 1-3 are reserved for the fastest runners. Never stand in these lanes.
Lanes 4-6 are for intermediate, or midpack, runners.
Lanes 7-9 are for beginner or back-of-the-pack runners.

Do warmups running clockwise; the workouts running counter clockwise.
About the Coach: Paul Greer

Coach Paul is professor in Health and Exercise Science at San Diego City College and has a Master's Degree in Exercise Science and 31 years coaching experience. A top San Diego section miler at St. Augustine High School, Paul was inducted into the school's Hall of Fame in 1995. After high school he went on to become the school record holder for 1500 meters at San Diego State. His 3:42.44 still stands as the best mark in school history.
Greer also ran the mile in under four minutes (3:59.79), was a 1992 U.S. Olympic Trials qualifier at 1500 meters with a 3:39.05 and competed on the tough European track circuit as a post collegian. In addition to teaching at San Diego City, Mr. Greer also coaches for the San Diego Track Club; the largest running club in San Diego. He works with over 500 runners and is the Director for the Rockin N Runnin marathon training program preparing athletes every year for San Diego's Rock N Roll marathon/half marathon in June. Recently, he was selected to be the Men's Coach for Team USA's Senior (20-35) and Junior's teams (19 and under) at the Great Edinburgh Cross Country Championships. Paul's workouts cater for runners of all ages and abilities and he provides training schedules to his athletes on an individual basis.