Tina Breen Win's USATF San Diego's Volunteer of the Year
I've been training with the SDTC Rockin' 'n' Runnin'program this year. Upon joining I was asked by Coach Paul to be the Safety Pacers aka "Yee Haw" Coordinator. Why not? Sounds like fun!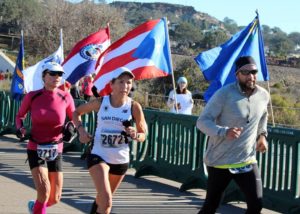 I'm also the volunteer Membership Chair for USATF San Diego and sit on their Board. I was recently awarded Volunteer of the Year for USATF San Diego at the USATF Annual Meeting in Orlando Florida and at the USATF SD Association Banquet. Being retired I'm always glad to lend a hand. I've been involved with SDTC for only a year now and have enjoyed my experience, being appreciated for helping out always feels good. As Coach Paul says, "Let's make a difference!"
As for racing this year I participated in the Cardiff Kook 10k February 5 with the RnR program and as part of USATF SD Long Distance Running series. I was 3rd in my age group 61-65 with a 52:35, the up-hill back certainly smacked me in the face. Then I ran at the City Heights 5k Cross Country course February 25th, 28:00 in change and 1st in the 50+ AG.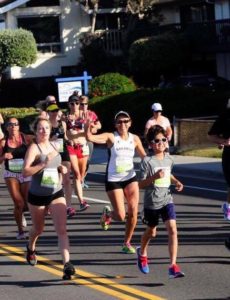 And then of course the San Diego Half Marathon 5k. Probably one of the most fun 5k's you can do. It's like riding a roller coaster and when you finish you are just pumped because it was so fun. I placed 1st in the 60-64 AG with a 23:11 and 3rd Female Masters OA. My hubby was teasing me and said that's because nobody showed up. He certainly keeps my ego at bay.
Other than that I'm getting ready to run with my SDTC Women's Masters Team at the Carlsbad 5000. I have a blast at that one too and our Women's Masters 60+ Team is full of some really fast ladies who put me to the test. But no worries to get beat by them it's all good. My respect for them means more to me and I just have fun just trying to hang
What's the rest of my season look like? Well I'm never one to reveal what's up next. I enjoy the process of training and the racing is just a test if I've been putting in the training. I look forward to continue wearing my San Diego Track Clubcolors this year and doing my best to always Represent.
Yours, Tina Breen