Registration for this year's Cardiff Kook 10K is open!
Superbowl Sunday, February 3rd 2019
READ SIGNUP INSTRUCTIONS BELOW
---
RnR Training Program Members
As a member of the SDTC RnR Training Program, you get a complementary entry into the 2019 Cardiff Kook 10k race! Use coupon 2019SDTC100% when you register; please be aware that there is a processing fee of $3.95. Code expires January 30, 2019.
Make sure to select "SDTC Ticket – $39.00" during the signup process for a reduced transaction fee.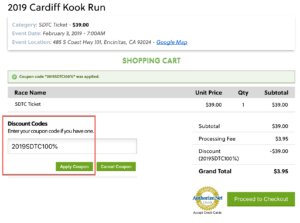 This coupon code is for RnR Program members ONLY. Those not in the program that use this code will NOT be issued a bib or get to run the race. Non-program members should to use the friends and family coupon code listed below instead.
NOTE: Please only sign up if you intend to run. If you sign up and do not show up, SDTC still gets charged $40 for your entry. As a non-profit, we run on a tight budget and ask that you help us use our resources in the best possible way.
---
Cardiff Kook Run for Friends and Family

The Cardiff Kook Run has generously provided a discount code to our SDTC members, friends, and family that are not enrolled in RnR Training. Coupon code Fitness15% will save 15% of registration. Code expires January 30, 2019.