Movin Shoes RnR Runners of the Week
February 2018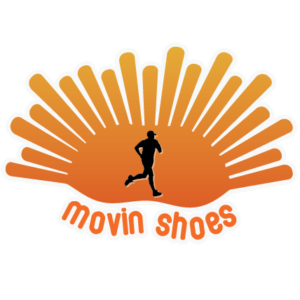 Each week during our spring Rockin' 'n' Runnin' Training Program, our coaches select a Runner of the Week. These are individuals from our RnR, Boston, Next Level, and M2B training groups who have made a difference in others running lives or deserve to be recognized for their running achievements.
As an extra bonus, these individuals  awarded a gift certificate to Movin Shoes running store! Make sure to congratulate these runners next time you see them!
---
Jeff Winters (Week 9)
Back in 2014, I was approximately 25 lbs. overweight and decided to make a change in my life so I decided to take up running.  One evening while visiting a local microbrewery with several neighbors; one of them had mentioned he saw me running with my dog and wanted to know if I was interested in running the San Diego Half Marathon.  By the end of the night (and after a few beers) he had me convinced to sign up.  After the first half marathon I was hooked on running and continued running on my own throughout the year.
In 2015, Annie Herrin had mentioned I should join the San Diego Track Club and it was the best decision I could have made.  So far I have completed one Ragnar, two marathons; San Diego Rock and Roll and Mountains2Beach and approximately 20 half marathons.  In particular I was able to complete a bucket list item by completing a full marathon prior to my 50thbirthday.  I've made some great friends here and I always enjoy the long runs when I get a chance to talk with other runners and learn a little bit about their lives.
---
Stephen Hanson (Week 8)
Our Movin Shoes Runner of the Week is Stephen Hanson!   This is Stephen's first year in the Next Level Training Program and his first year with RnR.  Stephen's cousins, who are both members of SDTC, introduced Stephen to SDTC on a group run while training for his 1st marathon.
After hearing more about the RnR program, Stephen felt it was the perfect opportunity to stay motivated and train with a group.  Stephen continues to work hard to improve his fitness and inspire others.  Stephen has actively coordinated events at his work to get more people involved. Stephen has run 8 Halfs, 2 Fulls, and 1 50K.
One fun fact about Stephen: He won a ping-pong tournament at the La Jolla Lululemon store and got to go skydiving as the prize!
---
Tracey Taddey (Week 7)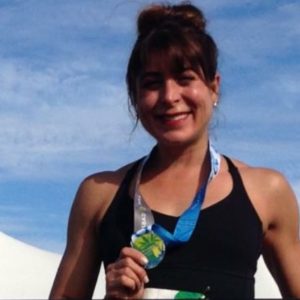 Embarking on a new adventure, far from home in La Jolla, CA, Tracy arrived at New York University. A huge city, full of new possibilities, new opportunities…. and coincidentally discovered her love to Run! Without any other athletic background, except an interest in fitness, she decided to get to know her new city with her new beloved sport.
A run to the Empire State Building, the Twin Towers, Central Park, The Reservoir, Uptown, Downtown… it was all an amazing adventure with so much to see! And also so many city runners! Next, off to San Francisco for Dental School which brought HILLS… and the majestic Marina District, the Golden Gate Bridge… all the ultimate stress release!
After graduation Half Marathons became a new challenge… and then she decided to test the distance with the Marathon. First The Carlsbad Marathon, and then the ultimate opportunity came her way in 2001. Tracy had the chance to run the New York City Marathon… in her favorite city full of energy and her original inspiration!
The terrorist attack of 911 took place only two months before Race Day, but NYC pushed through and all New Yorkers, police, firefighters, spectators came out to support their Marathon. She ran that Marathon on pure adrenaline and PR'd with a 4:00. Her love of running became more passionate and more solid.
Tracy joined SDTC in 2013 after her PR in Rock n Roll Half of 1:41. She wanted to be a part of a group that shared her interest and love to run. She started 2018 in Rock n' Running and was inspired to run Mountains to Beach and aim to qualify for The Boston Marathon.
Tracy practices dentistry with her Dad in La Jolla, a beautiful place to run. She feels very grateful for crossing paths with SDTC full of amazing people, friends, inspirational athletes and great, dedicated coaches. She is striving hard to meet her goals and is looking forward to learning more and more at every run!
---
Leslie-Jean Sanchez (Week 6)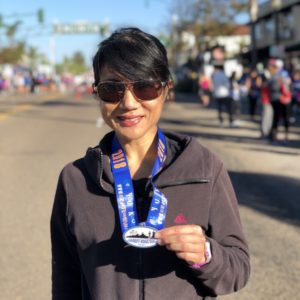 Would you think that being born on "Marathon Monday" would be enough incentive to start training to run one? Without any other sort of sports background to help assess that possibility, Leslie-Jean wasn't sure. It might take her 38 years to get the rest of life settled down enough to think about training for one but eventually, that's exactly what Leslie-Jean did.
After running a few short races ten years ago in about a 10:00 minute pace, running a marathon finally became a bucket list item for her and so in December of 2012, she ran her first marathon, the Las Vegas RNR. That became the first of 3 marathons and when the Boston bombing took place on her birthday in 2013, her determination to run Boston became  so strong that she trained for her 4th marathon, the Revel Mt. Charleston Marathon held in April of last year where she ran a Boston Marathon qualifying time of 3:30, which is an 8:00 minute pace, or 2 minutes a mile faster than she could run a 5K just a few years previously.
With that performance, she joined the SDTC's Boston Marathon training program this year with 2 new goals in mind. The first one is to run another BQ in Boston this year so she can qualify for Boston 2019 and run that marathon on the Monday that will just happen to be her 45th birthday. Leslie-Jean has recently purchased a home in Scripps Ranch which makes it easy for her to run a lot of miles at Lake Miramar and has been training with the higher mileage and intensity of the Boston schedule while staying healthy, all the while balancing her life as a professional Physicians Assistant and married mother of two children. With the devotion she's exhibited to date in life and in her marathon training, those last stated goals shouldn't be a problem.