Looking for the schedule?  Want to volunteer?  Where can I find the course map for this coming week?  Have questions?  Below are the contacts, training schedule, volunteer links, and the course maps for the 2019 Half Mad Program.
---
Weekly Information
"In Between Run"
Date/Time: August 31st
Location: Balboa Park – 6th & Quince (map)
We are meeting near (but a bit north) of the Balboa 4 Miler race start. Parking might be tight due to the race. We recommend you arrive early and find street parking in the surrounding area.
Weekly Newsletter: In Between Run 8/31
Workout:
— Full Marathon @ 6:30am
Others: 120-150 mins
NOTE: This is an informal run during the break before Whatever Half kicks off on Saturday, September 7th. This run is primarily targeted at our Full Marathon group, though the Half runners are welcome to join…Coach Jameson wants to remind you not to overextend yourselves!
End of Program Survey
Mark your calendars:
Our Fall "Whatever Half" training program kicks off on Saturday, September 7th. There are a few spots open if you didn't already sign up for the combined summer + fall program!
Keep Training with SDTC!
Fall "Whatever Half" Training Program (Sept 7th Kickoff)
Spring Rockin' 'n' Runnin' Half & Full Marathon Training (Jan 4th Kickoff)
Maps: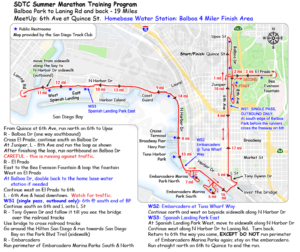 Training Schedules

Half Marathon
June
July
August
Full Marathon
June
July
August
Social Media
Half Mad Training Facebook group
SDTC Facebook group
SDTC Facebook page
Instagram
Other Social Media
Contacts
Jameson Rienick – jameson.rienick@gmail.com
Kate Garcia – kateg92116@gmail.com
Rashaad Forehand (Marathon Training) – ref77@yahoo.com
Stephen Burch (Volunteer Coordinator) – sdtcvolunteer@gmail.com
Jessie McBride (Emails & Social Media) – membership@sandiegotrackclub.org
Uyen Phu (Emails & Social Media) – membership@sandiegotrackclub.org