SDTC Boston Training Group
By: Ellen K. Fleischman
Boston Marathon
training with
Coach Dave Hutchinson
("Hutch')
was the most awesome experience!
We started training in November for the April marathon.
Hutch gave us a calendar, usually a month at a time so we wouldn't look ahead and freak out.
He also sent weekly e mails with training tips, humor, and words of encouragement that I looked forward to getting.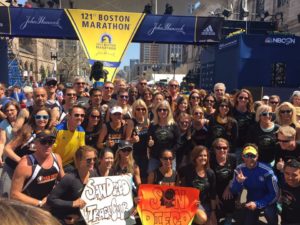 We started with a base of 30-35 miles per week and built up to 70+ miles at the peak and gradually increased the mileage on our long Saturday runs. Whenever possible the Saturday runs were coordinated with the bigger
Rockin' 'n' Runnin'
group, which made it fun.
Hutch drove his van along the course and was ready with Gatorade, water, and always had donuts for after the run!
The higher weekly mileage was challenging, at times with the demands of work and school, but the schedule was planned so well, and the mileage increases were gradual.
Several of us talked about how we surprised ourselves with how we managed to fit in longer weekday runs before work.
Hutch was also very helpful with modifying workouts based on schedules and injuries.
I felt really well prepared for the race by the time April arrived.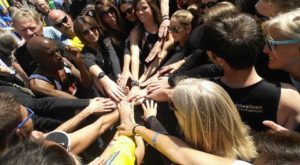 As you may have heard, race day was unseasonably warm.
It was scary to see how many people were walking on the course early on, bent over with cramps, or getting medical attention in the medical tents.
Many of the really strong runners in our group did not have a good race.
What helped me was that instead of fighting the crowds at the early water stations, I carried a bottle of water for the first 7 miles.
I loved the course and the crowds.
There is so much to say about the event itself, but the training, traveling and socializing with the group when in Boston, and the celebration when we got back to San Diego made it all a once-in-a-lifetime experience!